Be The BEST You!
HoweRT® Micro-Sport® Units are industry leading Medical Devices for pain and healing. For decades Frequency Specific Microcurrent (FSM) has been used by elite athletes. While demonstrating amazing results, it was difficult and expensive to find. Our Micro-Sport® units change that! Whether your goal is to play in a Super Bowl, a little league championship, a local golf outing, or play with your grandkids on the weekend-- HoweRT® devices have helped people just like you! 
Our Testimonials
Go To Wellness Tool for Clinic & Family Needs

"

Micro Sport changes what is possible! It has changed what I can do for my patients...but more importantly it has helped my family every single day! From stress, illness management to hockey injuries or helping my oldest son reach his dreams as a Paralympian- Micro Sport is our 'go to' health and wellness tool!

"

Jenn Burkhart, OTR

Chicago, IL

Fractures

"

We are lucky to have a home device!! My daughter broke both of her legs 10 days ago. We placed the pads on her legs within 4 hours of the break when we got back from the ER. She managed her pain with very little additional help. 3 days post break her splints were so loose because her swelling had reduced so much we had to re-wrap her legs ourselves waiting for the casting. Day 5 we got to see her skin... no swelling, no bruising , nothing additional but Motrin since day 3 for pain. We continue to use HRT daily to m...

"

Veteran with PTSD Finds Relief

"

Amazingly, after more than thirty years of inability to participate in many normal activities because of Combat PTSD, caused by tours from 1967-1972, I now have received not only relief but hope that life will no longer be a heavy yoke upon my shoulders.  I went 20 years after leaving Nam without realizing I had a problem by drinking and working as much as I could to keep busy 24/7. In 1992 I exploded, lost my job, sold my house and everything I owned then moved to Mexico to disappear. Many years later I move...

"

A Must Have for Home & Clinic

"

Vanessa is a rare professional who delivers at every point from customer service and education, to an amazing frequency specific micro-current system. The system is incredibly simple to use and the protocols deliver solid results. I have used the system for multiple concerns with unimagined relief. I typically engage in regular acupuncture and chiropractic care, however during the pandemic my Micro-Sport has helped me avoid travel for care. Not only that, but the micro-current has transcended some of the underlying...

"

Tina Buck, PhD, LPC, BCN

Arizona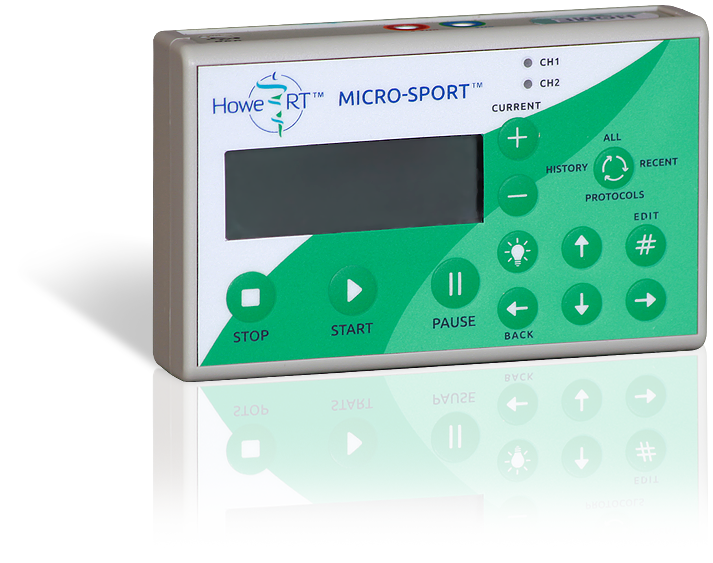 Advanced Programming
& Superior Results
Easy to use
Top performance
Great reliability
Exceptional value
Our Micro Sport® units set the bar as the most effective, comprehensive, easy to use FSM devices on the market.  Used for nearly 2 decades in professional athletics, FSM offered exceptional pain relief and improved healing.  Early versions were difficult to understand or expensive to obtain treatment.  Micro-Sport® has changed all of that!  With up to 99 advanced programs, easy to use instructions, and a huge library of programming to meet YOUR needs, Micro-Sport® has quickly made an impact in elite athletics as well as individuals' homes.  Powerful enough for clinic or team use, yet cost effective enough for patients to use in their own homes!  Log In to learn more about program options or how to get yours!
Let's Connect
What works for you?  Email?  Call? Text?  Need help in a hurry?   HoweRT is here to help!   
Or create a Log In for more device specific information!  Need to be connected with one of our amazing practitioners?  Log In to connect with us!
205 West Grand River Rd — Suite 101 — Brighton — Michigan — 48116
Welcome to our new website!
You are welcome to browse while we are still under construction.
Check back soon to purchase items online.
For inquiries, please call 844.698.4693.